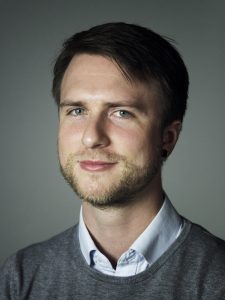 David Stephen Grant (*1988) has studied composition at The Norwegian Academy of Music and The Norwegian Film School. In 2017 he graduated with a Master's degree in film music composition with the original score for Magnus Meyer Arnesen's movie Når jeg faller [As I Fall] (2018) which was nominated for an Amanda Award for "Best Original Score" at the Norwegian International Film Festival 2019.
With an interest in technology and programming, much of Grant's music features rich, dark, electronic timbres where acoustic and synthetic sound sources are tightly entwined. Still, he composes music in a broad range of expressions, from experimental chamber music to film music and pop musicals.
Besides working on his own music, Grant has freelanced as a music copyist for a number of publishers and private clients, and has previously worked as a Software Tester on Dorico—Steinberg Media Technologies GmbH's software for professional music engraving. He has been chairman of Young Nordic Music Norway and a board member in nyMusikks komponistgruppe, and was in 2019–2020 employed as Classical Editor at Edition Wilhelm Hansen, Copenhagen. In 2020 Grant founded Edition Polaris AS.
Selected Works